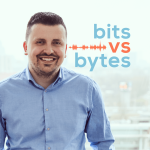 Stefan Leijnen has been CTO for 'Can't Wait to Learn', a programme developed by War Child Holland and its partners, since August 2017. Can't Wait to Learn aims to provide quality education to children affected by conflicts. By playing educational games on tablets, children can keep on learning mathematics and reading.
Working in resource constrained areas bring its own challenge: no power, no internet, very little infrastructure and extreme weather conditions. Find out how War Child and programme partners have been solving these problems since 2012 in this podcast.
Enjoyed this podcast? You will also like this one with Sander Bijl from BeterDichtbij.