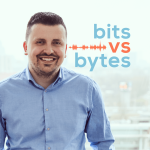 Joris Leker is the Co-Founder of Valsplat (https://www.valsplat.nl), an agency that focusses on researching how users use applications for numerous companies. This qualitative research is mostly a manual process that is measured by interviewing people and asking them about their experience.
These interviews were previously bundled into a report and sent to the client, but Joris and his team noticed that this sometimes meant that information wasn't landing where it was supposed to. They created Sticktail to combat this problem and he talks all about what Sticktail does in this podcast.
Enjoyed this podcast? Also check out the one I did with Arnoud Martens from Valtech.