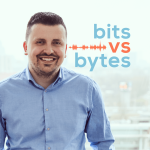 Evelyn van Kelle is a Strategic Software Delivery Consultant at Xebia (https://xebia.com). In this podcast we will discuss all about Socio-Technical systems like Domain-Driven Design and we'll also go into interesting topics like hiring technical people.
Some of the ways to reach Evelyn:
Twitter: https://twitter.com/EvelynvanKelle
Linkedin: https://www.linkedin.com/in/evelynvankelle/
Website: https://evelynvankelle.com/
Enjoyed this podcast? You will also like the one I did with Marjolijn de Boer from The Human Factor.