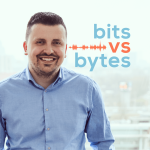 Damir Perkic is Co-Founder at BE O Bottle (https://beobottle.com), they create waterbottles made of out of bioplastic. This bioplastic is made from residu from sugarcane and fully recyclable.
Damir started this company because he worked in the plastic industry and saw that almost all (99%) of the plastic is made from crude oil and he set out to change this, and their first product is the BE O Bottle.
Enjoyed this podcast? You might also like the one I did with Koen The from Lendahand.